I am in the process of updating the game room in our home.  The small pool bath off the game room has the original blue and white mexican tile.  I don't care for it but I don't want to replace it.  We are going to paint, get new shades like the rest of the house, and re-slipcover the sectional.  I am not normally a huge blue fan but I am loving the ethnic vibe of all the vintage indigo textiles that are popular right now. 
via clothandgoods.com
The Japanese boro fabric makes really interesting pillows.  I don't think I would want a pile of them but one definitely makes a statement.  Boro textiles are sewn from nineteenth and early twentieth century rags and patches of indigo dyed cotton. Ironically now these textiles are some of the most expensive and sought after. This piece below from Dering Hall is priced at $4,000.00
http://www.deringhall.com/products/accessories/art/4059/japanese-boro-textile
These beauties can be found at Jayson Home
These wonderful pillows from John Derian are made from vintage african indigo textiles. 
http://www.johnderian.com/products/john-derian-denim-pillow
House of Cindy has some great pillows made from Vintage Indigo Textiles here…http://www.houseofcindy.com/product/handwoven-hmong-textile-pillow-18/
Vintage Japanese from Botanik.  I love the natural fading and patches.
Vintage Laotian woven  indigo textile pillow from Hot Moon Collection
http://shop.hotmooncollection.com/indigo-brocade-textile-pillow/
More African Textile beauties from Hot Moon Collection
The lovely handwoven indigo hemp textiles from the Hmong mountain tribes  are still somewhat affordable.  Many can be found on Etsy and Ebay if you would like to make your own pillows.
via etsy.com
I purchased this pillow from nicolle scott designs on Etsy.  I will be back on Friday to tell you how I am going to incorporate it in my game room update.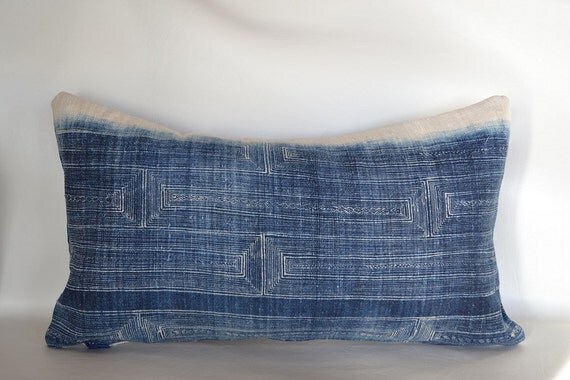 https://www.etsy.com/transaction/nicollescottdesigns
I am off to Tahoe to see that project can't wait to share some pics with you next week!!