Please excuse my lack of posts. I am crazy busy with multiple projects right now. Located midway between historic Truckee, California and North Lake Tahoe, Martis Camp is a 2,177-acre private, luxury community

http://www.martiscamp.com

.

. It's home is in the picturesque Martis Valley.
This past weekend I visited to discuss a new project with long time friends and clients. I am over the top impressed with the development and so looking forward to the project. Have you ever looked at a planned development and thought….they should have done this…or they could have done that? Enter Martis Camp, Lake Tahoe
http://www.martiscamp.com/
. No detail was left to chance.
Situated atop the 70-foot rock promontory that overlooks the 18th green the lodge provides every amenity imaginable. Sliding walls create a vanishing threshold from the inside out. Virtually every space affords a view of the surrounding landscape even the locker rooms. Huge sliding doors provide open air dining for warm summer days. The main lodge houses an adult saline pool, hot tub, full service spa, fine and casual dining and of course serves as the hub for the Tom Fazio golf course
.
via swackbackpartners.com
via worldpropertychannel.com
The Family Barn, the heart of the community, houses an old fashioned soda shop, an art loft, a bowling alley, game room outfitted with pool tables, and every game imaginable. The Camp Hall houses half court basketball and floor hockey. Outside the enormous family pool is outfitted with jetted and soaking tubs with a beautiful sunbathing deck. Around the corner is a fishing lake with catch and release fishing.
See more at:
http://www.martiscamp.com/family-barn/#sthash.eYCj7Us5.dpuf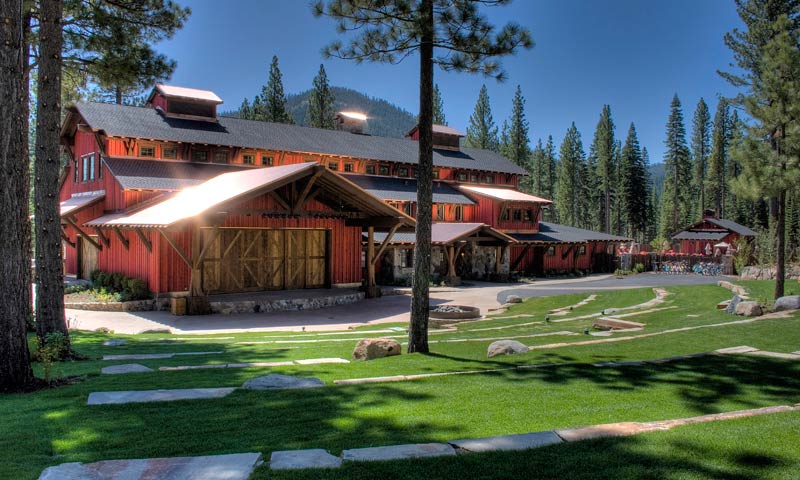 All photos unless otherwise noted courtesy of Martis Camp
Vallone Design from Scottsville
http://www.vallonedesign.com/
masterfully designed the Family Barn and Clubhouse to create the incredible ambiance that is Martis Camp. There is so much to do and see. I will try and cover more of the beautiful architecture and amenities in future posts.
What do you think? Ready to move?
.