I have really been loving ethnic inspired fabrics of late.  Unfortunately all of the ones I love are in the $100 plus range.  Imagine my excitement when I learned Calico Corners was to release a line of fabrics from Nate Berkus. I love Nate's style. It is textural, earthy, masculine and arty all at once. He believes in a collected layered look that looks as if it has evolved over time rather than the instant decor we have all become so accustomed to.
His former condo on Chicago's Gold Coast has always been one of my favorites
…and his New York Loft is just as lovely…
Nate's new collection for Calico has great style for an affordable price, which is no small feat.
I am crazy about the (El Convento)  fabric on the desk chair only in the black colorway.  I would sure like to use this for someone…maybe even me!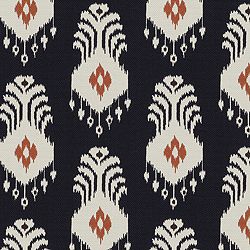 How about this set his team created for the Calico Launch…isn't it amazing? I will take those doors thank you!! Wait…and maybe that mirror as well!
The beautiful Ikat on the ottomans above (Kopaki) is only $36.99.  It is much richer than it's price tag. It comes in other colorways as well.
Go here http://www.calicocorners.com/ and check out Nate's new line, and you can register for a chance to win Nate's book!  How fun is that?
By the way…could Nate be any cuter?
Also, be sure and stay turned for some fun. I along with an amazing group of  bloggers are going to post titled  "my dream home".  Keep in mind, many of us are from different countries, and at different stages in our life as well.  Imagine what you would do at this stage of your life whatever it may be.  If you are young you might wish for something very different than those of us that are…well…not old …but…you know!! I think you will really enjoy it.  I know we are all looking forward to it!!